DFE ANNOUNCEMENT RE FREE LAPTOPS AND DATA - FURTHER INFORMATION TO COME/ EXAMINATIONS UPDATE/ helpful websites/learning resources - PLEASE VISIT PARENTS/students PAGEs FOR MORE INFORMATION
Thank you to you all for working very closely with us to meet our responsibility to make sure your child is safe at this time and for all the work you are doing with your child to help them deal with the anxieties that they and you will naturally have and also for supporting your child to keep studying at home as well as enjoy some much missed family time.
Parents whose children are eligible for Free School Meals have been contacted and provided with a voucher. If you believe your child is eligible for Free School Meals, please do click on the PARENTS page and follow the Free School Meal guidance. We will do our best to process your application as soon as possible. Please do let us know if you are struggling and we will try to help.
Please contact us if you require any further schoolwork for your child or click on the STUDENTS pages for some websites which might be able to help you with ideas. Please contact us on officeox@meadowbrookcollege.org or if you need to contact us for any particular support.
We will continue to populate the PARENTS and STUDENTS tabs with resources/information to help during the weeks ahead so please keep checking this section.
Please help us tackle the spread of the coronavirus by staying at home. this will also protect the nhs and our teachers and save lives.
Please remember that the symptoms of the coronavirus are:
A high temperature (37.8 degrees and above)
A new, continuous cough
Difficulty breathing
The advice for your family with regards to SELF-ISOLATION states that:
If 'you' are the first person in your house to present symptoms you only need to self-isolate for 7 days.
If anyone else in your family/household presents with the symptoms listed above then each individual must self-isolate for a period of 14 days. They can count the other person's 7 days in this if they have lived in the house for the duration of that person's illness. If anyone new enters the house and starts with symptoms, they must isolate for 14 days.
You do not need to call or visit the GP, you do not need to call 111 to go in to self-isolation. If your child's symptoms worsen or if there is no improvement then do call 111 or in medical emergency call 999.
Please see links below for any further Gov.uk information you may require.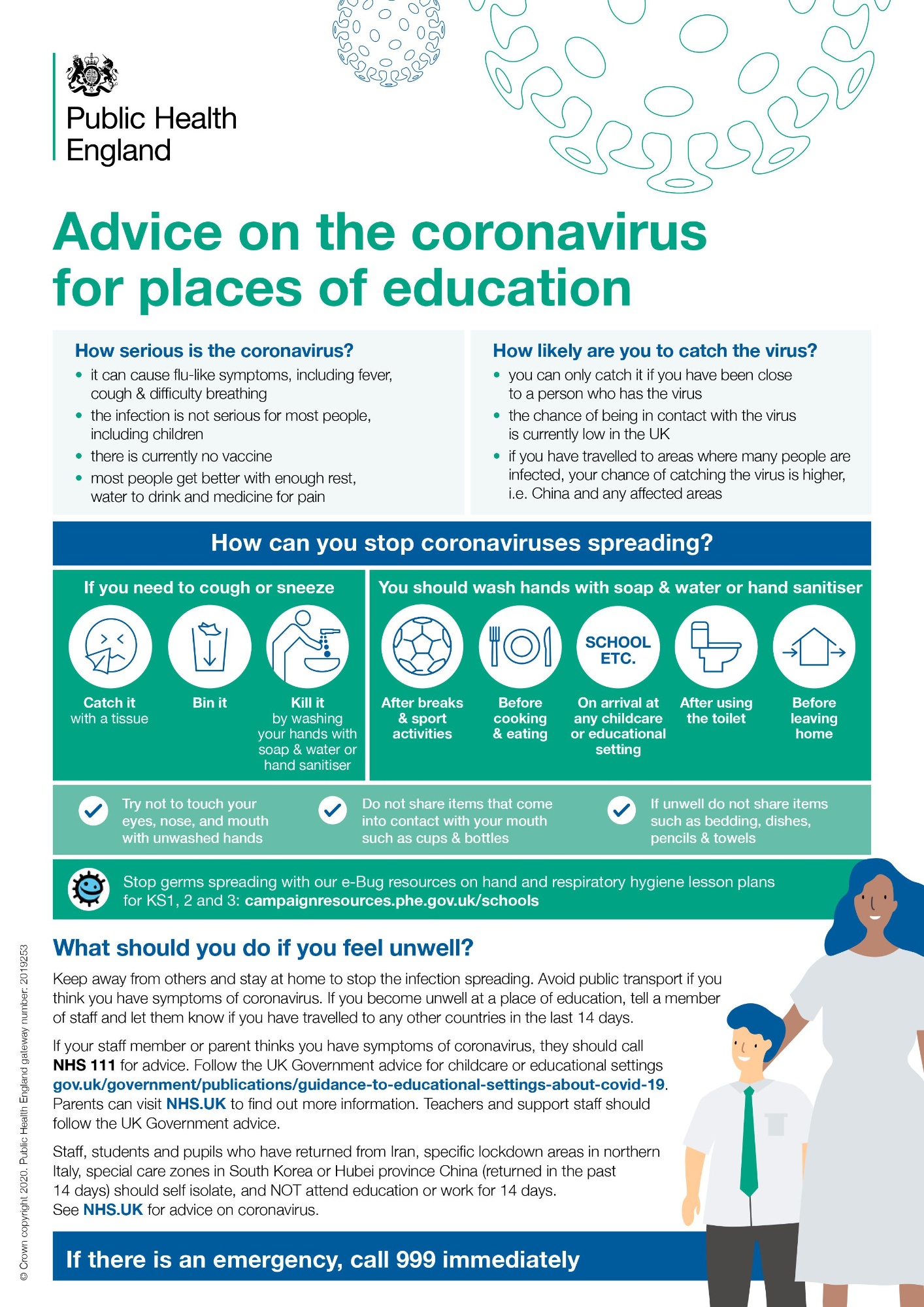 Please click on the link below for the latest letters to Parents
The following links may also be helpful:
Updates on COVID-19:
Guidance for educational settings:
Travel advice for those travelling and living overseas:
Latest Department for Education information: